Webinar Information and Registration
Ask the Experts: Real-world Approaches for Managing Hyperglycemia in Hospitalized Patients
Wednesday, March 19, 2014, 1-2 pm EST

Register

After registration, you will receive an e-mail confirmation with instructions for joining the webinar.

Download Handout
Accreditation for Pharmacists

The American Society of Health-System Pharmacists is accredited by the Accreditation Council for Pharmacy Education as a provider of continuing pharmacy education. This activity provides 1 hour (0.1 CEU) of continuing pharmacy education credit (activity # 0204-0000-14-474-L01-P).
This activity is provided free of charge. Participants must participate in the entire presentation, submit an enrollment code (announced during the webinar), and complete the course evaluation to receive continuing pharmacy education (CPE) credit. Participants will process CPE credit online at http://elearning.ashp.org/my-activities, with the option of printing a CPE certificate. CPE credit will be reported directly to CPE Monitor. View full CE processing instructions.
Methods and Format
This is a live web-based activity consisting of audio, presentation slides, and an activity evaluation tool. A live webinar brings the presentation to you. Listen to the speaker present in "real time" as you watch the slides on the screen. You will have the opportunity to ask the speaker questions at the end of the program. Please join the conference at least 5 minutes before the scheduled start time for important announcements.
Target Audience
This continuing pharmacy education activity was planned to meet the needs of health system pharmacists in all practice settings, especially those interested in inpatient care, critical care, postoperative care, endocrine disorders, diabetes, patient safety, and quality improvement.
Webinar Overview
In this activity, the faculty will provide health-system pharmacists with practical approaches for improving the management of hyperglycemia using case vignettes representing different populations of hospitalized patients. Suggestions for overcoming barriers will also be presented.

The content for this activity is based on questions raised by participants in a recent educational symposium on this topic. Time for questions and answers from the webinar audience will be provided at the end of the presentation.
Learning Objectives
At the conclusion of this application-based continuing education activity, participants should be able to
Recommend approaches for managing hyperglycemia in different populations of hospitalized patients.
Outline a plan for overcoming barriers to inpatient glucose management.
Faculty
View

Bio
Kevin W. Box, Pharm.D.
Senior Clinical Pharmacist
UC San Diego Health System
San Diego, California
Kevin W. Box, Pharm.D., is Senior Clinical Pharmacist at UC San Diego Health System in San Diego, California. His primary practice is in the surgical critical care unit specializing in trauma, neurosurgery, and transplantation. He is an advocate for optimizing pharmaceutical care in the intensive care unit (ICU), and he routinely serves as a preceptor for Doctor of Pharmacy students and pharmacy residents in the institution's postgraduate year 1 and postgraduate year 2 programs.
Dr. Box received his Doctor of Pharmacy degree from the University of the Pacific in Stockton, California.
At UC San Diego Health System, Dr. Box plays an important role in initiatives to develop and implement guidelines aimed at improving patient care. He is a member of the critical care committee, glycemic control task force, and performance improvement team for the surgical intensive care unit. Other recent committee involvement addressed continuous infusion titration, glucometer selection, and protocol for spontaneous awakening of patients in the ICU.
In addition to his responsibilities at UC San Diego Health System, Dr. Box serves as Associate Clinical Professor (non-salary) at University of California, San Diego (UCSD) Skaggs School of Pharmacy and Pharmaceutical Sciences, where he co-chairs an elective course on critical care medicine in addition to lecturing on selected topics in required courses. He also is Assistant Clinical Professor at University of California, San Francisco (UCSF) School of Pharmacy (non-salary). Dr. Box has been recognized as preceptor of the year by both of these institutions.
Dr. Box was a recipient of the 2008 Hospital Pharmacist-Hospitalist Collaboration Grant from the American Society of Health-Systems Pharmacists (ASHP) Foundation for his work on transitioning from insulin infusions to subcutaneous insulin using a transition protocol, a study subsequently published in Journal of Hospital Medicine. He has also co-authored peer-reviewed articles on topics related to prophylaxis of venous thromboembolism in trauma patients and glycemic control in the burn intensive care unit. He is a member of the Society of Critical Care Medicine and California Society of Health-System Pharmacists. Twice he served on the evaluation panel for the ASHP Foundation Pharmacy Resident Practice-Based Research Grant.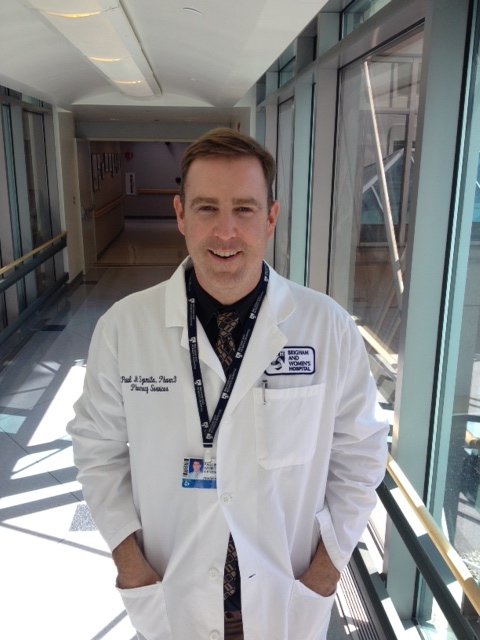 View

Bio
Paul M. Szumita, Pharm.D., BCCCP, BCPS, FCCM
Clinical Pharmacy Practice Manager
Director, Critical Care Pharmacy Residency
Brigham and Women's Hospital
Boston, Massachusetts

Paul M. Szumita, Pharm.D, BCCCP BCPS, FCCM, is Clinical Pharmacy Practice Manager at Brigham and Women's Hospital (BWH) in Boston, Massachusetts. He also is Director of the postgraduate year 2 critical care pharmacy residency.
Dr. Szumita earned a Doctor of Pharmacy degree at Northeastern University in Boston, and he is dual board certified in pharmacotherapy and critical care pharmacy. He also is a fellow in the American College of Critical Care Medicine.
At BWH, Dr. Szumita has helped develop and is responsible for managing clinical programs aimed at optimizing pharmacotherapy and improving patient outcomes. As a former Clinical Specialist and current practicing clinical pharmacist in critical care, he has an active role in bedside education, clinical research, and guideline development and implementation with a focus on glucose management, pain management for critically ill patients, agitation and delirium, hemodynamics in shock states, and inpatient glycemic management. He is co-chair of the hospital's diabetes committee.
Dr. Szumita is Adjunct Associate Professor of Pharmacy at three colleges and helps coordinate 15 clinical rotations, training more than 100 students each year. He has more than 40 peer-reviewed publications, and he serves on several committees focused on improving clinical practice at the local and national level, including the program advisory board for the ASHP Critical Care Pharmacy Specialty Examination Review Course.
Viewing the Webinar as a Group
To arrange for colleagues to participate in this webinar as a group, one person serving as the group coordinator should register for the webinar. The group coordinator will receive an e-mail confirmation with instructions for joining the webinar. A few minutes before the webinar begins, the group coordinator should launch the webinar link. Once the webinar has been activated, the coordinator will have the option to open the audio via VoIP (Voice Over IP) on the webinar toolbar or use a touch tone phone with the provided dial-in information. At the conclusion of the activity, the group coordinator will complete a brief online evaluation and report the number of participants at that site. Each participant will process their own continuing education statements online.
Webinar System Requirements
Be sure to view the webinar system requirements for Windows, Mac, iOS, and Android prior to the activity.